歡迎您來到姚姚溫哥華地產服務網站!
在網站的右上角您可以找到我的聯絡方式. 我專精南本拿比區,我可以提供您免費房屋估價. 若您想知道您的房子現今最好的市值,中文和英文服務,請馬上聯絡我!
Welcome to Debby Yao Real Estate Services Website!
For your professional Vancouver Real Estate residential buy sell and consultation service, in Chinese and English, please find my contact to the right of this website.
I can provide you a free home evaluation. Please contact me to find out how much your home is worth.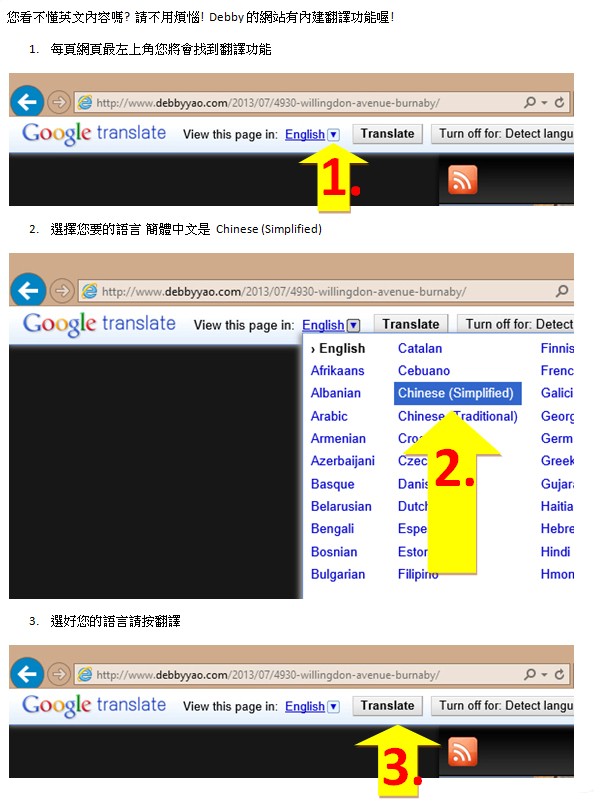 為什麼找 Debby Yao 姚姚?
房地產買賣是一個很龐大的投資,不管是買家市場或者是賣家市場,在買賣方面都需要非常密切的注意市場上的動態,多做比較. 地產經紀,買家和賣家必須密切的保持良好的溝通,促進買賣需求上的理解. Debby是一個全職地產經紀,在溫哥華居住20多年,本地小學至大學畢業,中英文流利,成熟的傳播技巧,和成長速度最快的Team 3000地產經紀公司300多位地產經紀配合,在全溫哥華擁有六間辦公室,以及Debby擁有一萬名大溫哥華經紀人的聯絡資料做電子郵件宣傳,能每日密切的幫買家注意著新上市的好買賣. 有耐心,有實力,值得信賴. 提供中英文服務,海外支援買賣房,和她配合,可以不用擔心錯過難得的好買賣. 多元化網路溝通方式,你永遠找得到她!
房地產買賣有問題? 有親朋好友想買賣房地產? 需要一位會說中文的全職女經紀? 現在就找 Debby! 歡迎打電話洽詢: 778-552-5888 Debby Yao 姚姚